CGEN offers both undergraduate and graduate students a range of opportunities to get involved in global development research and advocacy. In addition, CGEN sponsors a number of annual scholarships which are awarded to engineering graduate students who are conducting innovative research to tackle some of the world's most intractable development and humanitarian challenges.
Undergraduate Summer Positions
Every year, CGEN faculty across all engineering departments recruit a number of undergraduate students during the summer to assist with their research. Those positions are paid, but students are encouraged to concurrently apply for NSERC USRA co-funding to increase their chances of being accepted to a given opening. Research topics range from reinventing the toilet to designing passive drip irrigation control systems for small-scale, low-income farmers in the developing world.
We are currently recruiting for the following projects:
Developing a Mobile Application for Pollution Sensing in Low-Income Settings
The Environmental Organics Laboratory is seeking a summer student to assist in developing a pollution sensing application. S/he will work with a graduate student to apply image analysis algorithms to analyze pollutant concentrations and develop the user interface in a smartphone app. Experience with app development (e.g. Swift, Xcode) is preferred. Position start date: June 1 – 15, 2018.
Paid position, NSERC USRA co-funding preferred.
If interested, please email your resume and cover letter to Ahmed Mahmoud at cgen@utoronto.ca.
---
CGEN Scholarships
Thanks to donations generously provided by influential members of the global engineering community at the University, CGEN is pleased to offer multiple scholarships annually to qualifying MASc and PhD students. The scholarships range from $5,000-15,000 and include those listed below:
Paul Cadario Doctoral Fellowship in Global Engineering
This award was created through generous donations by Mr. Paul Cadario and the UofT's Faculty of Applied Science and Engineering. It will be awarded to PhD students affiliated with the Centre for Global Engineering (as certified by the Director of the Centre or a designate) whose research has potential impact in the developing world.
Metcalfe Family Graduate Fellowship for Sustainable Energy Research
This award was created through a generous donation by the Metcalfe family to support sustainable energy research. This scholarship will be awarded to students affiliated with the Centre for Global Engineering (as certified by the Director of the Centre or a designate) and who are registered in one of the following department or divisions: The Department of Mechanical and Industrial Engineering, the Department of Chemical Engineering and Applied Chemistry, or the Department of Civil Engineering. This scholarship is open to current and incoming MASc and PhD students.
All Scholarships will be awarded on an annual basis, are non-renewable and are administered in accordance with the University's Policy on Student Awards. The total number of scholarships awarded each year and in each category will vary depending on the quality of applications received and the availability of funds.
Scholarships will be awarded to current and/or incoming graduate students registered in the Faculty of Applied Science and Engineering (FASE) and who are – or intend to be – affiliated with CGEN (as certified by the Director of the Centre). They will be awarded primarily on the basis of the applicant's academic excellence and the research proposal's potential to address a global engineering challenge. Applicants should declare which of the scholarships they are applying for but they will be considered for both if they are deemed eligible. All applications are assessed internally at the University, and award decisions are taken by FASE members.
Applications for 2018/19 are currently open. To apply, please send the following documents to cgen@utoronto.ca by the deadline of July 12, 2018 at 5:00 pm:
Letter of Recommendation: A letter of recommendation from your immediate university supervisor (usually your thesis supervisor)
Transcripts & CV: Provide a copy of your CV and complete university transcripts (Photocopies or unofficial copies obtained from university information systems are acceptable).
Research Statement: Include a research statement describing the work to be supported and how your research addresses an important global development challenge (maximum 1 page).
The entire application should be submitted in one pdf file and should follow the file-naming format "LAST NAME_CGEN Scholarship 2018_2019" (for instance: Smith_CGEN_Scholarship 2018_2019).
---
Global Engineering Capstone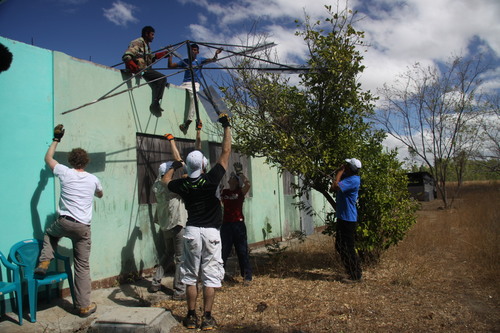 Starting in the Fall of 2017, CGEN will start offering a multidisciplinary Global Engineering capstone for fourth year students across the Faculty of Applied Science and Engineering. As part of this course, students will get the opportunity to work on global development projects in partnership with companies, NGOs and aid groups trying to address some of the world's most challenging problems.
---
Student Clubs